During the 2013 election, I got into the habit of writing a regular series of posts to collect all the election-related news I could find in one place. It was useful for me, to keep tabs on what everyone was doing, and I think others found it useful too. This year I'm doing the series again, but at Taproot Edmonton! Currently we're publishing the roundup every two weeks, but we anticipate increasing the frequency as we get closer to the election.
This is a bit of an experiment for us, just like our #YEGFringe Daily Digest that Ryan Stephens has been writing for the past couple of weeks. Like some other future-of-media entrepreneurs, we think email has a big role to play. For all the talk about spam, there's actually quite a bit of evidence that people like email newsletters!
If you'd like to get our Edmonton Election Update in your inbox for free, join our mailing list here. If you'd like to support the creation of our local feature stories as well, consider becoming a full member of Taproot Edmonton. It's just $10/month or $100/year to join.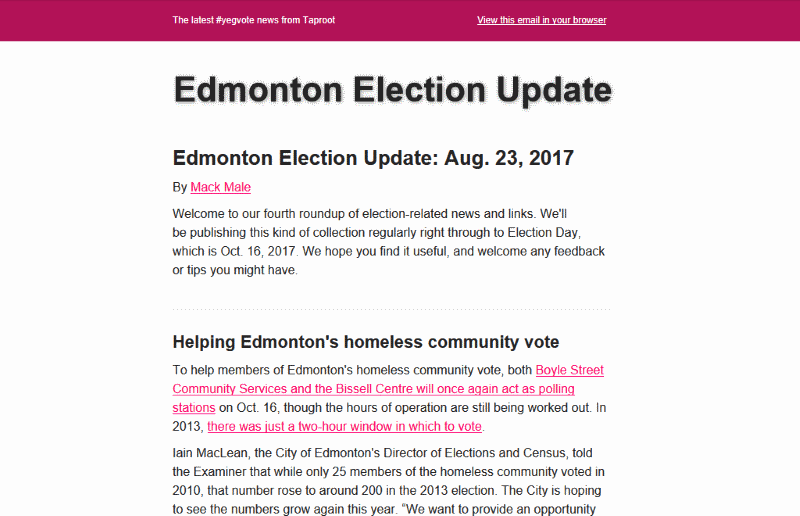 The format we're using at the moment is 2-3 "feature" items, followed by a list of other news items and events. If you read and enjoy my regular Edmonton Notes or Media Monday Edmonton posts, the election roundups should feel very familiar. Here are the three I have written so far:
Aug. 23 — Helping Edmonton's homeless community vote, Taz Bouchier is running for mayor, Work the election on Oct. 16
Jul. 27 — More than three dozen female candidates already, Campaign finance reform, Fahad Mughal to challenge Iveson for mayoralty
Jul. 13 — Iveson remains uncontested, Ward 5 heats up
If email isn't your thing, watch our Twitter and Facebook — we'll be sharing each roundup on social media as well. We're still working on the rest of our election coverage, and will have more to share on that in the weeks ahead.
Have an election-related tip for us? Let us know by email, or share it on Twitter with the #yegvote hashtag and tag us @taprootyeg.
What do you think?