Last week Edmonton Global held a launch event outside its offices on the main floor of TELUS House.
"Edmonton Global's goal is to attract investment and jobs to the Edmonton Metro Region by developing a regional brand, a regional database, and a strategic plan to ensure the Region takes its rightful place amongst ~300 comparable world communities."
The event was emceed by Randy Boissonnault, MP for Edmonton Centre, who talked about the Edmonton region being a great place to work, live, and invest. The other speakers included Deron Bilous, Minister of Economic Development and Trade, Mayor Don Iveson, Edmonton Global Board Chair John Day, and Stantec's Simon O'Byrne.
Minister Deron Bilous said:
"With over 1.4 million people, Edmonton is one of the fastest growing metropolitan regions in Canada. We are proud to provide Edmonton Global $2.5 million to support projects that will attract new investment and create jobs."
Mayor Don Iveson called Edmonton Global "a profound game changer" and said:
"This is the most important thing we need to do-pull the region together. But that would not be possible without all of you agreeing that that was what we needed to do."
John Day said:
"We aren't going to be successful unless we do it together. And that's what this is all about… we have opportunities and challenges."
Simon O'Byrne wrote following the event:
"I spoke to the audience about how places like Edmonton are ideally situated in a VUCA age (i.e. a time of volatility, uncertainty, complexity and ambiguity). Markets seek certainty and stability. Edmonton is that place. It has, perhaps, the best public education system on the planet. It is a meritocracy where refugee children go to school with children that fly first class. That just doesn't happen almost anywhere on Earth. Edmonton is one of the most inclusionary cities. 1/3 of us was born outside of Canada. Almost 40% of Edmonton are visible minorities. 1/3 of us can speak a language other than English or French. We have some of the best higher education institutions. We are also an affluent region, where ¼ households makes more than $100,000 a year. Almost 80% of households spend less than 30% of their income on housing, which is an enormous competitive advantage over many coastal cities. So why does this all matter? Because in a VUCA world, we are the model to follow. We are the safe, resilient and surest bet. We are the place you want to invest. To move to and raise a family. The place where the business climate is fertile for growth."
I'll give Edmonton Global itself the last word on the launch:
"A big thank you to everyone who came to our official launch event last night in Edmonton! If the attendance was any indication, there is huge support for the work we are doing to bring business here and position the Edmonton Metropolitan Region as a location of choice for global investment. We have so much to offer, including strong collaboration from regional leaders."
A brief history of Edmonton Global
In September 2015, the mayors of nine municipalities in the region (Edmonton, Strathcona County, St. Albert, the City of Leduc, Fort Saskatchewan, Spruce Grove, Sturgeon County, Parkland County, and Leduc County) announced the Metro Mayors Alliance. Together, they represented 95% of the region's population, 96% of its assessment base, and 80% of its land base. They contributed a total of $600,000 to conduct a study on how to make sure the Edmonton region is globally competitive. This was done at a time when the Capital Region Board (CRB), created in 2008, was still an unwieldy 24 members. It wasn't until October 2017 that the CRB became the Edmonton Metropolitan Region Board (EMRB) and reduced its size to 13 members.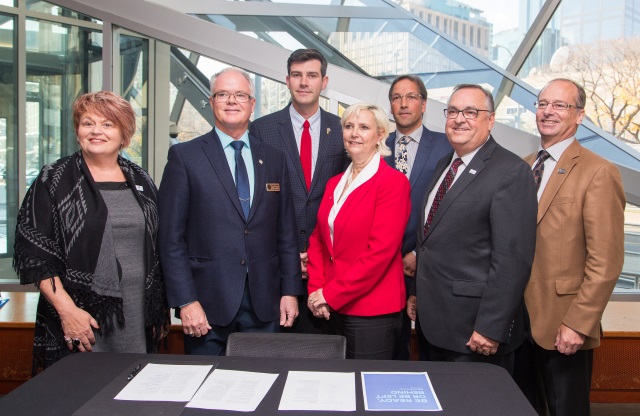 Photo courtesy of the Metro Mayors Alliance
The Edmonton Metro Advisory Panel, the body formed to lead the study, released its report called Be Ready or Be Left Behind in June 2016. "We can't just hunker down in our municipalities and milk the cows that we have," said Don Lowry, who chaired the panel. The report warned that "as much as 87,700 additional hectares of agricultural land and 50,200 hectares of natural areas could be lost to uncooordinated development over the next 50 years" with the settlement footprint across the region growing to "as much as 273,900 hectares." The report further warned that "taxpayers could be on the hook for an additional $8.2 billion to service that larger footprint with roads and other public infrastructure."
The report made three cornerstone recommendations:
Develop a collaborative, focused economic development strategy for the Edmonton Metro Region.
Create a new inter-municipal mass transit entity in order to plan and deliver the smooth flow of people and goods between communities and across the region.
Establish a mechanism with the capacity and authority to integrate and act on Metro Region land use plans and infrastructure development.
A few months earlier, in March 2016, the Capital Region Board had passed a motion to "incubate a formal regional economic development model, which would be independent of the CRB." So when the Metro Advisory Panel's report came out, there was a lot of overlap. The CRB pushed ahead with the new entity, adopting some aspects of the report along the way, and established an interim board of directors in February 2017, and followed that up with articles of association in April 2017. The City of Edmonton signed on to the entity the following month. Though all 24 members of the CRB were invited to join the new entity, just 15 signed on (the 13 members of what would become EMRB, plus Bon Accord and Gibbons).
The interim board phased out its work over the next month and the new organization was incorporated on June 9, 2017 as the "Edmonton Metropolitan Region Economic Development Company" now known as Edmonton Global, "the first fully regional economic development company for the Edmonton Metropolitan Region." In September 2017, the inaugural Edmonton Global board of directors was announced, with John Day selected as board chair. They met for the first time a few days later and announced a target of July 1, 2018 to be fully operational.
In November 2017, Mayor Stuart Houston of Spruce Grove was named Chair of the Shareholders Group and Mayor Gale Katchur of Fort Saskatchewan was named Vice Chair. In April 2018, the organization announced that Malcolm Bruce would serve as CEO on a full-time basis starting July 1, 2018. He had been serving as interim CEO since the organization was formed, and was the CEO of the Edmonton Metropolitan Region Board since January 2015.
And that brings us to September 6, when the official launch event for Edmonton Global was held.
What's next?
In 2016, I wondered who was responsible for the Edmonton metro region. While there's still a lot of overlap and jockeying for position going on, it seems that EMRB will be responsible for long-term planning while Edmonton Global will be responsible for economic development. In an interview in May 2018, Malcolm Bruce said "when we hunt as a pack on the world stage, we offer a far more compelling package to investors." Still to come is that new regional transit authority.
Edmonton Global's 2018-2023 Strategic Plan includes four priorities:
Serve as a catalyst for investment and job attraction and retention for the Edmonton Metropolitan Region.
Be the voice of the Edmonton Metropolitan Region's economic development activities.
Leverage partnerships to enhance Edmonton Global's success.
Organizational Excellence.
The organization started with a budget of $1 million 2017 which grew to $3 million this year and will expand further to $5 million in 2019. Over the next six months or so, Edmonton Global anticipates adding up to 20 staff.
The City of Edmonton contributed $330,000 to Edmonton Global in 2017, which came out of the Corporate Expenditures Management Initiatives budget. This year it contributed $668,000, which came out of the EEDC budget. Next year the City will contribute $1.346 million, but the funding source is yet to be determined. Each shareholder contributes funds based on a formula tied to its population and assessment base, which means the City of Edmonton is funding about 75% of the organization's total budget.
The big question then is what this means for the Edmonton Economic Development Corporation (EEDC), which was responsible for nearly everything that Edmonton Global will now be tackling. A report to City Council last year promised "a broader reflection on role clarity relative to areas of investment by the City of Edmonton's in economic development will be undertaken." The City also said in November 2017 that "discussions are ongoing with the Edmonton Economic Development Corporation regarding the roles and responsibilities between the two organizations."
That work is still ongoing. I asked EEDC CEO Derek Hudson about it last month just after he was named to the role. "I don't see us stepping back in much of the work we do," he told me. He pointed out that capacity-wise, there's no comparison. EEDC has a budget of nearly $50 million and more than 200 employees, so it simply has a greater ability than Edmonton Global to get things done.
That said, he sees a need to work together, and told me the boards of the two organizations have a subcommittee to sort through it all. "One of the things that is critical is what's the experience of someone coming from outside," he said. "Ideally an investor from Asia gets a coherent experience from the time they first hear about the Edmonton metro region to when they participate in an investment," no matter where in the region it is.