John Rose, Chief Economist at the City of Edmonton, started his presentation at the Edmonton Real Estate Forum earlier this month with a bit of humor. "There are two kinds of forecasts," he told the packed room. "Lucky and wrong!" He finished it on a much more serious note, saying "the way to get a recession in Edmonton is to have the provincial government make cuts."
The general message from Rose was that because Edmonton's economy is more diversified than Calgary's or the rest of Alberta, we have handled the downturn better than those locations. "Lethbridge might be the only other jurisdiction that is less reliant on energy than Edmonton," he said. But, there are reasons to be less optimistic about future growth.
Our unemployment rate went up during the economic downturn "primarily because our labour force grew faster than we could generate jobs," Rose said, pointing to the increase in migration from other regions that fared worse. It has since gone down to 6.6% but that's not necessarily a good thing. "The unemployment rate in Edmonton has been going down for exactly the wrong reason," Rose said. Over 11,000 people have left the labour force in the last 12 months. "Nearly all the job gains we saw in 2017 have been eliminated in the first quarter" of 2018, Rose said. "Education, manufacturing, health care, and professional services have all gained jobs," he said, while "trade, retail, public administration, transportation, and warehousing have all lost jobs" in the Edmonton area.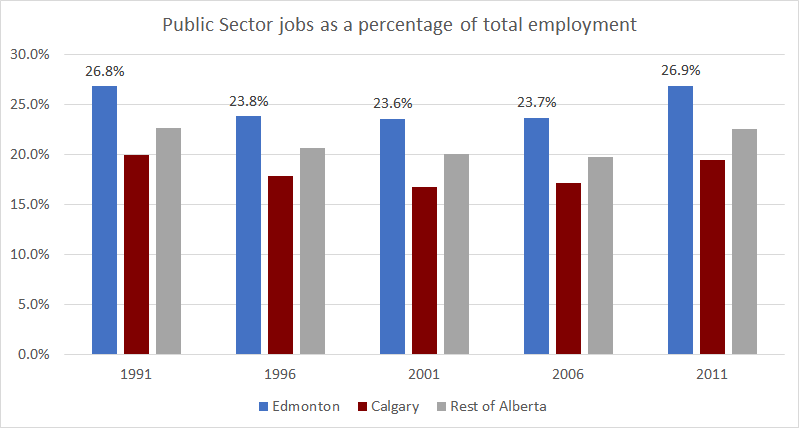 As the above chart shows, Edmonton's public sector workers, which includes those in government, health, and education, make up about 25% of our workforce. The data hasn't been updated yet for more recent years, but based on data from the 2016 census as well as the provincial Labour Force Statistics report for April 2018, I believe the trend holds.
You can see that the public sector makes up a larger part of Edmonton's workforce compared with Calgary or the rest of the province. Which means that cuts to public administration, health care, or education hit Edmonton harder than the rest of the province.
So what's a likely reason the government would need to make cuts? Though Edmonton may be diversifying away from oil, Alberta as a whole is still dependent.
Rose spoke for a while about the price of oil, and it's impact on the province. "While we have seen North American and Global oil prices accelerate," he said, "it is only recently that we have seen any benefit from that in Alberta." He explained the difference between the Brent (the global benchmark price), WTI (the North American benchmark price), and WCS (the Alberta benchmark price), and noted the price discount we're experiencing "due to export capacity constraints."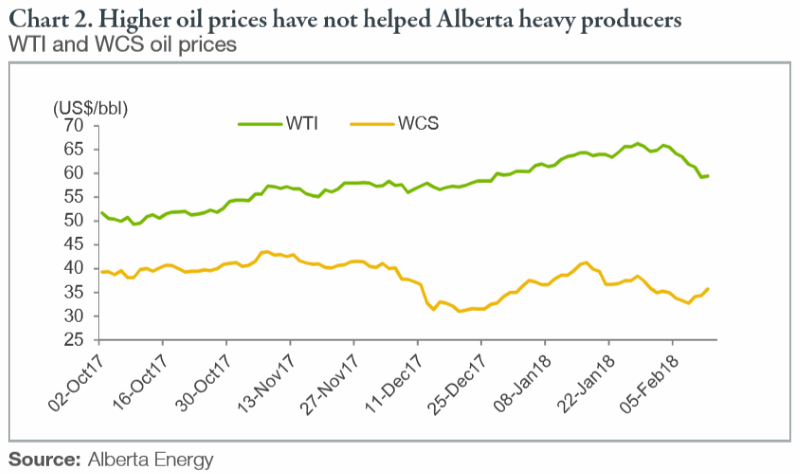 "We are now producing more oil than we can move due to limited capacity," he said, "which is why the pipelines are so important." Rose said he was shocked at the speed with which energy companies began to cut back due to the decline in oil prices a few years ago, in contrast with Ontario where he spent most of his career. There he said the economy is "much more like an ocean liner, it's slow to turn."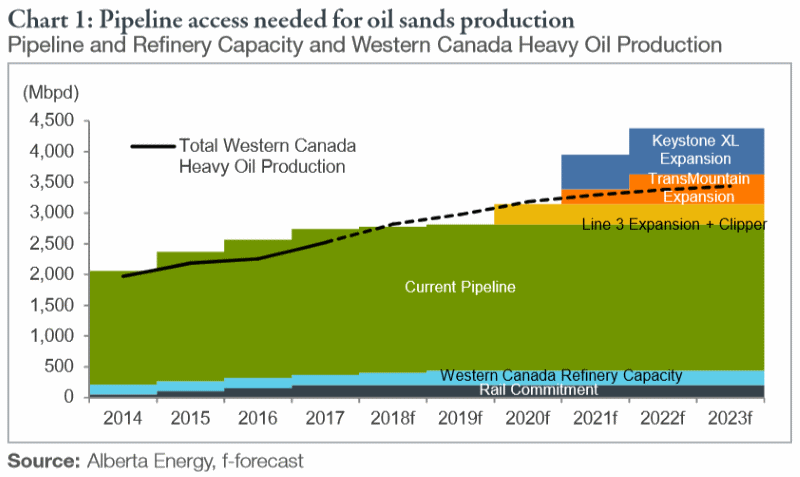 "Oil production in North America is at record levels," Rose said, "and given our inability to move product out of Alberta, there's a real risk of oil prices continuing to decline, which would put the provincial government in an even worse position." That could force it to look to cut costs, which could have a very negative impact on Edmonton's economy.
Provided that doesn't happen, Rose expects Edmonton's economy to do quite well. He expects the unemployment rate to continue to drift downward over the year. "Population growth will continue but at a slower rate," he said. Vacancy rates at about 7% have driven rental rates down, and thanks to a potential overbuild of single family homes in 2015, "there might be too much inventory", helping to keep prices in check. "Low inflation will boost real incomes for Edmonton residents as average weekly wages are rising again," he said.
Rose forecasts that Edmonton and the region "will grow more rapidly than Alberta and Canada" through 2023. Let's hope he's lucky, not wrong.
The two oil-related charts above come from Alberta Energy. Canada is the fourth largest producer and third largest exporter of oil in the world, with the oil sands accounting for 62% of Canada's oil production, according to Natural Resources Canada. There's more on Alberta's energy industry at the National Energy Board.