Nomination Day took place on Monday, September 18. A total of 132 Edmontonians filed their nomination papers and paid their deposits to run in the 2017 municipal election. Michelle Draper was the only candidate acclaimed on Nomination Day, so she'll continue serving as the public school board trustee for Ward B. Barry Koperski had filed his paperwork to run for council in Ward 4, but withdrew his nomination by the deadline on September 19.
20 minutes into Nomination Day… here's the scene here at City Hall #yegvote pic.twitter.com/uV2lACMb2L

— Edmonton Elections (@ElectionCensus) September 18, 2017
//platform.twitter.com/widgets.js
So that leaves us with 131 candidates in this election:
13 mayoral candidates
70 city council candidates
20 Edmonton Catholic School Board trustee candidates
28 Edmonton Public School Board trustee candidates (including one acclamation)
A total of 131 candidates is a new record for municipal elections in Edmonton. The previous high was 120 in the 1986 election. The 2013 election came close, with 119 candidates filing their paperwork.

Returning Office Linda Sahli
"This morning ran very smoothly – now it's the voters' turn," said Edmonton Elections Returning Officer Linda Sahli.
Andrew Knack, councillor for Ward 1, was running unopposed until Nomination Day, when three challengers came forward. "Thankfully people will have a choice in Ward 1," he tweeted. It's actually Ward 2 that has the fewest candidates for council, with just three, a significant decline from 2013's seven. In the 2013 election, Wards 4 and 9 had just two candidates each.
There are 24 female candidates for mayor or council, which is about 29%, and that's up from 17% in 2013. Counting all the races, 36.6% of the field is female (48 candidates), which is up from 32.7% in 2013 (39 candidates).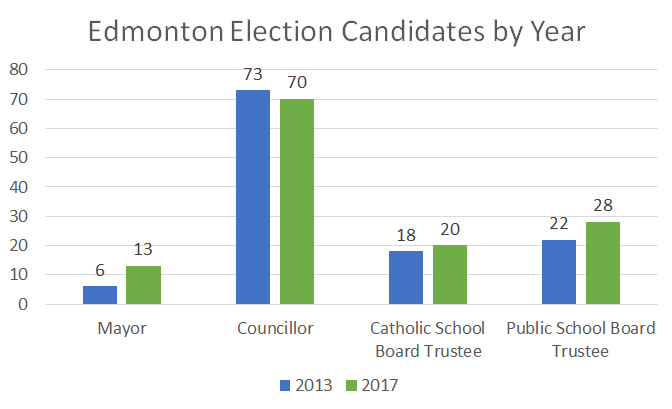 Edmonton Elections has made the full candidate list available on its website and in the open data catalogue.
You can see more photos from Nomination Day courtesy of Dave Cournoyer. Here's my recap of Nomination Day for the 2013 election.
Your Guide to the 2017 Municipal Election
We've combined open data from the City with other data that we've collected to build an election microsite at Taproot Edmonton. You can browse the full list of candidates, all the wards and voting stations, and a list of election-related events. On Election Night, you can watch the results dashboard to see who your new elected officials are.
For a more personalized experience, try our Election Guide feature. Simply put in your home address and we'll tell you everything you need to know – which wards you're in, who your candidates are, where to vote, and more.
We're also publishing a weekly roundup of election news and other links. Here's our latest edition and here's the archive. You can sign up to receive the newsletter in your inbox each week.
If you find the election microsite and/or newsletter updates useful, spread the word! Maybe we can bump the voter turnout numbers up a bit. And if you want to support the work we're doing at Taproot Edmonton, become a member. It's just $10/month.