Monday's election resulted in very few surprises for City Council. Don Iveson easily won re-election as mayor, all but one of the incumbent councillors is returning, and while it is still early, the winners of the three open races seem like they'll fit in just fine with the mostly progressive Council they are joining. Voter turnout wasn't great, but it was far from the disaster many were predicting with such a boring mayoral race. So why does it seem like the overwhelming narrative is that citizens are unhappy?
Consider what Paula Simons wrote in her first column after the election. "Sure, incumbent mayor Iveson cruised to easy re-election, with support from almost three-quarters of those who cast ballots. But don't misread that," she warned. "Iveson faced no legitimate challengers, so voters who were unhappy with his leadership had nowhere to channel their frustrations."
Her colleague David Staples seemed to agree. "Iveson will likely have majority support for his agenda on council, but on a host of issues where he has taken a strong stand, from LRT and bike lanes to photo radar and social housing, Edmontonians appear increasingly less inclined to go along with his progressive vision."
Or consider what the Edmonton Journal's editorial board had to say. "If letters to the editor, media comment boards, call-in shows and candidate forums are any indication, much of the electorate is in no mood for business as usual," they wrote. "Many may have expressed their frustration by staying home Monday, which along with the lack of a high-profile challenger for the mayor's chair, could help explain a disappointing voter turnout."
I look at Monday's results and I see something very different. I see a clear endorsement of the decisions that Iveson and the previous Council made and a mandate for this new Council to build on that work.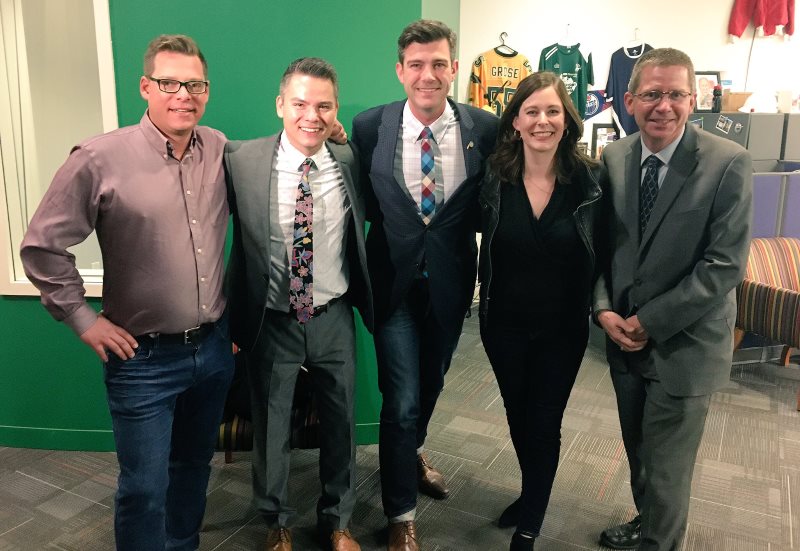 Bumped into all four new members of #yegcc on the media circuit just now. Congrats! – @doniveson
Yes, there are citizens who are annoyed about bike lanes and photo radar. Some are opposed to infill, at least in their own neighbourhood. There are plenty of citizens who love to complain about how it isn't as easy to park downtown as it once was. But these are just squeaky wheels and we shouldn't let them speak for the majority. There's a big difference between being annoyed that a traffic lane now belongs to bicycles and being upset about the overall direction the city is headed. This is what people really mean when they say they want to vote for something rather than against something.
I see no credible evidence that Edmontonians are unhappy with the direction our city is going.
"They wrote letters to the editor! They called the call-in shows! They tweeted their discontent!"
Then why not show up to express that anger where it matters, at the ballot box? Voter turnout was 31.5% in this election, which is down 3% from the 2013 election. Considering that voter turnout went from 41.79% when Stephen Mandel was first elected to just 27.24% when he won re-election the first time, I'd say a 3% drop isn't too bad at all.
"Voter turnout would have been higher but people stayed home to express their frustration!"
If citizens were really expressing frustration by staying home, I would have expected much lower turnout. Don Iveson received 141,182 votes on Monday, up from the record-setting 132,162 he received in 2013. Only four times has an Edmonton candidate cracked the 100,000 vote mark and Iveson has done it twice in a row (the other two were Jan Reimer in 1992 and Stephen Mandel in 2010). A record number of Edmontonians voted for our mayor rather than staying home.
"They only voted for Iveson because there were no credible challengers!"
Why is that? In a city of roughly 900,000 people not one credible person was willing to step forward to run against Iveson. Could it be that no one was miffed enough to go to the trouble? The 2010 election, in which the City Centre Airport was the big issue and the downtown arena debate was starting to heat up, saw a challenger step forward in David Dorward. It has happened before.
"Incumbents never lose and Dave Loken lost! Ben Henderson barely scraped by! Tony Caterina nearly lost!"
Loken won his seat in 2010 by just 507 votes and won re-election in 2013 by just 501 votes. Is it really that unbelievable that he might lose this time around by 464 votes? Both he and Henderson were pretty quiet in this election. As Dave wrote, Henderson ran "what appeared to be a stealth re-election campaign in Ward 8." It's not at all surprising that the results reflect that. Caterina has never been seen as one of Iveson's sure votes, so I don't see how his narrow victory is any indication that people are unhappy with the progressive agenda. Quite the opposite, in fact.
"The polls say people have doubts about everything!"
Don Iveson and Ryan Jespersen talked about polls on Tuesday morning. "It's not accurate, it's not a true thing," Iveson said. "I would enourage all media outlets as a matter of ethics and integrity to stop reporting that." There are definite flaws with many of these polling methodologies. Trust them at your own risk.
---
I have no doubt there are some people who truly are upset about certain decisions, whether it's bike lanes or infill or whatever. There's always going to be someone who is upset about something. And yes, Iveson and Council should take what they heard on the doorsteps to heart and they should always strive to truly listen to citizens in order to make the best decisions possible. But they should also see the outcome of Monday's election for what it is: an endorsement of the trajectory our city is on and a mandate to keep moving forward.