In today's world, the smartphone is at the centre of almost every digital experience. In addition to a smartphone, many of us carry headphones, perhaps a battery pack, a fitness tracker, and maybe even a cable or two. The smartphone itself connects to a whole world of other devices on top of that, like so-called "smart" locks, thermostats, speakers, and video cameras. Can TELUS capitalize on this brave new world with its new store to change the way you buy electronics and perhaps make TELUS your preferred partner for the connected lifestyle?
Back in 2008 I wrote about the brand new Future Shop in South Edmonton Common, described at the time as "the future of Future Shop". It was a curious time to be launching a fancy new electronics store – just a month or so before it opened, Circuit City down in the US had filed for bankruptcy protection. The Source had recently shut down more than 60 stores across the country and its parent company InterTAN had just filed for bankruptcy protection too. It took a bit longer until Best Buy felt the effects of online shopping, but in the last five years they've been hit hard with declining revenue (though recently have become profitable again). Earlier this year, Best Buy discontinued the Future Shop brand and closed 66 locations across the country, including that store in South Edmonton Common. And down in the US, RadioShack filed for bankruptcy protection too. It has been a rough decade for bricks & mortar electronics retailers.
But maybe it's too easy to blame online shopping and showrooming for the difficulties facing Best Buy. The Apple Store has had incredible success during that same time period and is still expanding today, and others like Microsoft have followed suit with their own stores. Why go to Best Buy when you can go right to the source? Not to mention the experience of shopping at a Best Buy is nothing like shopping at an Apple Store. Maybe there's hope for electronics retailers after all?
It's with all that in mind that I accepted an invitation to check out the new TELUS Store at Southgate Centre here in Edmonton. I joined fellow blogger Nugglemama for a tour of the new space, located directly across from the old TELUS Store near the stairs in the southeast part of the mall. Marc Jamieson, Director of Marketing, Merchandising, and Design at TELUS and Koodo, was in town to show us around and to explain all of the features of the new store.
The existing TELUS Store at Southgate was about 640 square feet, and it's safe to say it was a traditional phone company store (it will soon become a Koodo store). Most of the space inside was dedicated to counters where you'd spend lots of time waiting for a phone activation. There was very little product on display, and the whole environment was fairly uninviting. A few years ago TELUS launched its "G2" stores to try to change that perception. They were larger, brighter, and featured more phones and a limited amount of other merchandise, like cases and chargers. But they also made heavy use of digital screens and more or less kept the same core interaction – a TELUS employee on one side of a desk and you on the other. I've visited the G2 store at Edmonton City Centre a few times, and while it has always been a positive experience, I do find the store somewhat unfriendly thanks to the cold surfaces and dozens of screens.
Now TELUS is introducing a new generation of store with some much bigger changes. The new Southgate store and the new store at Toronto's Eaton Centre are "Connected Experience concept stores" that TELUS says "are an evolution of our retail shopping journey." There are currently no plans for additional new stores, but if these two are successful you can bet that will change.
"There's no doubt that our smartphones are a central part of our lives and how we're using them changes almost daily – from listening to tunes, to tracking our fitness to monitoring our home – our devices can really enrich our lives. With our new Connected Experience stores we've created a playground where customers can touch, test and play with more than 1,000 specially curated products that help enhance their digitally connected life."
The new TELUS Store is the largest in Canada at roughly 3,400 square feet. It officially opened on October 21, just eight months after the original concept was created (the Eaton Centre store opened October 14). It features a bold green exterior and a wide entrance, and is immediately more welcoming than previous stores. As you walk in a greeter will say hello, and you'll find the store roughly split in half. The left side is where you can go to quickly purchase merchandise, and the right side is where you'll go to sign up for a TELUS service.
But perhaps the most obvious difference from other TELUS stores is the array of non-TELUS products on display and available for purchase. You can't miss the Fitbit and Nest displays, for instance. The new TELUS Store features a series of categories, each with an anchor product partner. You'll find:
Health & Fitness, anchored by Fitbit
Audio, anchored by Beats
Essentials, anchored by Mophie
Fashion, anchored by Kate Spade
Devices, anchored by Apple and Samsung
Lifestyle, anchored by GoPro
Home, anchored by Nest and Optik
Each category anchor can change over time, and there are more brands available in each. For instance, there is also Sonos, Bang & Olufsen, Jaybird, and many others available in Audio alongside Beats. The Fashion section (bags and cases) features Kate Spade but also Ted Baker and Rebecca Minkoff. Prices are comparable to other retailers.
The items you'll find at the TELUS store are all connected to the smartphone in some way. Fitbits, headphones, Mophies, Nest, and even toy drones, are all things you pair with your smartphone. I asked Marc if there were some things that just don't belong in a TELUS store, noting the lack of laptops. Marc said that "there are things we have decided not to focus on, and laptops are one of those things." He noted that even the tablet display was pretty basic. The focus is on "connected experience" devices – things you need a smartphone to get the most out of.
The new store is staffed more heavily than other stores, and all the staff have been trained on how to use all of the various products available. There's a real focus on demoing, so you're invited to try everything on display, and the staff all carry devices with the necessary software to show you how things work. I asked Marc if he was worried about showrooming, and he said he's so confident in the training of the reps that he's not concerned.
There are some pretty cool displays to help with all that demoing, like the interactive sound bar for wireless speakers. It uses an app built by Stingray Music to allow you to compare different speakers and different styles of music. Above each table are attractive sound-dampening features, something you'll find throughout the store actually.
The new store has incorporated lots of feedback based on previous stores and also research that TELUS has done at its retail lab in Scarborough. There's more quantity and variety of seating, because customers often spend a lot of time in the store. While the G2 stores featured Optik and other Future Friendly Home devices, they were hidden away. The new store puts them out in the open so that customers can better envision how the boxes will fit into their homes. There's also a kid-friendly area and lots of carpet in the store. Instead of a single retail counter, there are eight point-of-sale stations throughout the store.
Near the front of the store you'll find a recharge station for your mobile device, and on the tables throughout the store are wireless charging pads (which my Lumia worked with immediately). There's also free Wi-Fi at the store, though it wasn't working on the day I visited. All of these things are open to all, even non TELUS subscribers!
To celebrate the grand opening of the new stores in Edmonton and Toronto, TELUS is offering 15% off accessories until November 23. They're also encouraging you to share your experience on social media using the hashtag #ExploreTELUS. If you do, you'll be entered to win one of the prizes they're giving away weekly until December 14.
So, will I shop there?
I really liked the new store. It feels warm and welcoming especially when compared with its predecessors. There's a lot to see and do in the store, and it definitely will feel approachable to anyone who likes the Apple Store in that it is experiential. When I made the comparison, Marc felt strongly that "aesthetically they are different" however, even if only thanks to the liberal use of the green and purple brand colors.
I can't see myself buying my next Fitbit at the new TELUS Store, however. When it comes to electronics, I do a lot of research online. I compare and read and watch reviews and look up specs. I dig into forums and sift through social media to see what real people are saying and what issues they've run into. Then when I know exactly what I want to buy, I look around and compare prices. Often Amazon wins, especially as I'm a Prime member. The new TELUS Store isn't competing on price and despite promises that the staff are exceptionally well-trained, I'm skeptical that they'll have the level of knowledge that I would be looking for.
That said, as a TELUS mobile customer (since the Clearnet days!) I like the idea of a flagship store and would definitely visit the next time I need a SIM card or to talk with someone about my plan. It's the same reason why I visit the Apple Store or the Microsoft Store – I expect a better experience and the flagship stores offer that.
But I'm probably not the target customer anyway. Marc mentioned that the new store has seen a large increase in foot traffic, and it's the folks that are either casually looking or not willing to do all of that research that are the real target for TELUS. Have a smartphone and interested in getting an activity tracker? Head to the TELUS Store and they can help you get setup with the one that works best with your device.
It's unlikely that selling Fitbits or Nests is going to measurably impact the $12 billion in revenue that TELUS generates each year. But if the new store can indeed become a hub for customers looking for the connected lifestyle, then it could positively impact wireless, Internet, and Optik subscriptions which is what TELUS really wants. The new store is about creating that halo effect. Will the new TELUS store be the last of its kind or the start of a successful strategy shift? Time will tell!
Win a Nest or Jaybird X2!
After I visted the store, TELUS was kind enough to send me a gift basket. Included inside were a couple of pretty expensive items which would be inappropriate for me to keep, so I'm giving them away to two lucky readers!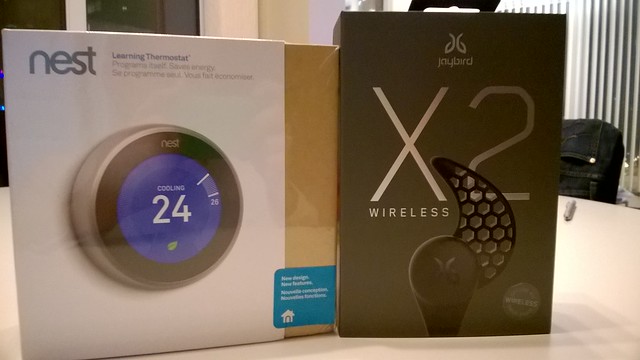 To enter my contest, simply leave a comment below by November 30 telling me how you currently like to purchase electronics and if you plan to shop at the new TELUS store. I'll draw two valid email addresses at random from the comments and will contact the winners on December 1. Just in time to help with your Christmas shopping!