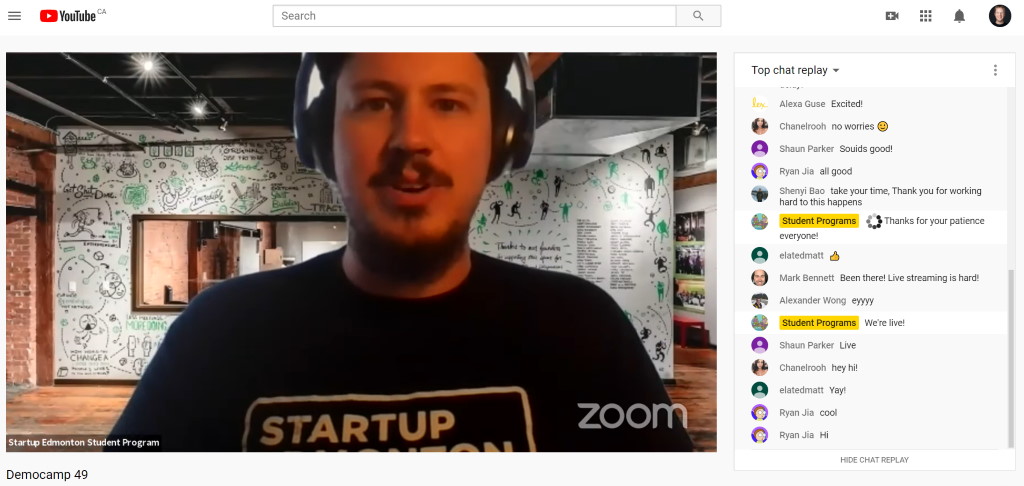 If you're new to DemoCamp, here's what it's all about:
"DemoCamp brings together developers, creatives, entrepreneurs and investors to share what they've been working on and to find others in the community interested in similar topics. For presenters, it's a great way to get feedback on what you're building from peers and the community, all in an informal setting. Started back in 2008, DemoCamp Edmonton has steadily grown into one of the largest in the country, with over 200 people attending each event."
The rules were the same for this virtual edition: "7 minutes to demo real, working products, followed by a few minutes for questions, and no slides allowed."
Here's my Twitter thread for the event. We had five demos, in order of appearance:
First up was Stream.ML which offers a marketplace for learning models. Users can use the site to build their own models by uploading and tagging data, and they can also deploy those models to the cloud or on-premise. The marketplace enables buying and selling of those models. There are currently 168 models on the site, 15 of which are ready for purchase. Back in early March, Stream.ML was accepted into the SVG Ventures THRIVE Accelerator. Stream.ML runs on Microsoft Azure.
The next three demos were all from CODEVID-19, the world's first global pandemic hackathon.
First was Charity Shop Exchange, a UK-based platform that applies the increasingly popular subscription box model to charity shops (of which there are more than 10,000 in the UK). Here in Canada, we usually call those thrift stores (places like Goodwill or Value Village). On Charity Shop Exchange, you input the things you like to watch and read, then the site will buy those from the store and deliver them to you. It's a way to support isolation.
Next was Trusted Locals, a platform that helps locals share information about their current on-site situation "in an organised and audited way." Users can submit posts such as where they saw toilet paper available. Then other users can confirm or disconfirm it, which informs a confidence score for the post. The idea is to help others around you with more trustworthy information. The developers are also looking to scrape social media sites like Twitter for information.
Next up was Where Have I Been which lets users record all of the places they've visited on a day-to-day basis. Check-in apps aren't new, but what this one lets you do in addition is see how risky the places you visited were. If a user self-reports that they have COVID-19 symptoms, the app will notify other users who visited the same places in the last two weeks. You can also view high risk locations in your area on a map.
The final demo was Prototype Hubs which offers a platform to connect clients with 3D printing and CNC cutting services. The idea is to streamline the process of getting quotes and interacting with multiple manufacturers. And for those with the equipment, they can offer their services to attract new customers and revenue. The service is hosted in Amazon Web Services (AWS).
I think Edmonton's first virtual DemoCamp went incredibly well. Aside from a minor hiccup at the start, the tech worked smoothly. The presenters did a great job, and Adam and the team from Startup handled the question portion very well.
You can re-watch the entire thing on YouTube:
Instead of in-person drinks following the demos, this time everyone was invited to join virtual drinks on the Startup TNT Discord channel.
Here are the events and other announcements that were mentioned in-between demos:
Be sure to check out the Tech Roundup for the latest headlines & happenings in Edmonton's technology community every Tuesday.
If you've got something to show, apply to demo at a future event.
Next up is a milestone, DemoCamp Edmonton 50. That's slated to take place in the fall. See you then, hopefully in person!